Facilities for Students
The Institute has support services to ensure the physical and intellectual health of all its constituent units such as:
Hostel
There are hostels available for both boys and girls in the premises itself. The students of M.B.S. course have been given admission to these hostels as per their requirement. The hostels are spacious with all required facilities.
Computer Lab
The Computer Laboratory, equipped with the latest hardware and software, is where students of various programmes are trained, by well qualified faculty, in computing skills. The Lab is quite spacious and houses 26 Pentium IV machines out of which one is an IBM server. These all machines are branded machines namely, 10 are IBM and 16 are HP brand. All machines are interconnected through LAN which helps for file sharing and Internet facility. Four Air Conditioners are maintaining the temperature of Lab. Lab is also accompanied with one HP DeskJet Printer, HP Scanner and LG CD writer. Free Internet access is provided to the students for their academic activities.
Library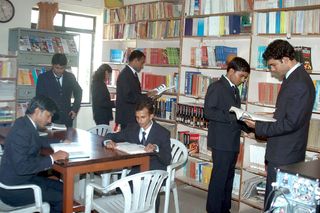 The library, a centre of self learning, has been playing an important role in supplementing academic activities and boosting research. The library is well enriched with a collection of about 7,500 books and journals on various subjects related to the curricula of different programmes. The library subscribes to number of Journals, Magazines of national and international repute.
The students are issued books under Home Reading Scheme which they can keep for a week. In addition, a free access Reading Room is open for the students from 8.00 a.m. to 8.00 p.m. The library has the open access system.
Sports Facilities
There are excellent sports facilities at the university level. There is a play-ground with adequate space in the campus. Tennis court, Basket Ball ground etc. are available in the campus. The students are encouraged to participate in the various sports events. The facilities such as cricket kit, sports uniforms, traveling allowance etc. are provided by the centre.
Health Facilities
'Bharati Medical Foundations', Bharati General Hospital is one of our sister organizations whereas all the Medical Services have been provided at the concessional rates. Besides OPD of the Homeopathic Clinic of Bharati Vidyapeeth's Homeopathic Hospital has been running at the Erandwane Campus, where at the students and staff have been benefited.